5 Reasons to Choose an Automatic Pool Cover

May 23, 2021
Automatic pool covers are without question the best way to cover your inground swimming pool. Other types of covers have one or two useful functions, but automatic covers check all of the boxes. Still on the fence? Consider these 5 reasons to choose an automatic pool cover.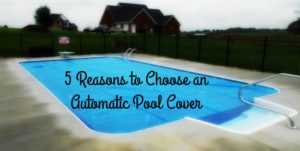 Attractive Design
You spent a lot of time, energy and money to create the backyard pool of your dreams. The last thing you want is for your swimming pool cover to distract from the overall appeal of your poolscape. When your pool is covered, automatic pool covers come in fabric that's available in a variety of colors, so you can choose the color that blends perfectly with your yard. When the cover is retracted, it's virtually hidden from view, so your swimming pool takes center stage each and every time it's open.
Quality
You've heard that you get what you pay for, and it certainly applies here. Automatic pool covers are made of extremely durable parts and materials, including long lasting cover fabric, high-torque motors, state of the art electronics, and high grade aluminum and stainless steel. Most manufacturers of automatic pool covers stand by their products, too, offering some of the most outstanding warranties you'll ever see on a pool product.
Easy to Use
When you want to swim, you want to swim. You don't want to spend time fumbling with a large, cumbersome pool cover. That's not the case when your pool has an automatic cover. It rolls on and off automatically; all you have to do is press the button or turn the key. You're more likely to use your pool cover when you swim because it's so easy to use.
Money
An automatic pool cover provides an excellent isolation barrier for safety, but it also pays for itself within just a few years. Keeping your pool covered will help keep your water from evaporating, which is the leading cause of water loss in a swimming pool. In fact, studies show that a solid pool cover stops at least 75% of a pool's water loss from evaporation, which means you don't have to use as much water to keep the pool full. Since you're not refilling your pool as often, you'll also save significantly on the cost of chemicals for your pool. Finally, you'll spend less money to heat your pool because the cover traps a significant amount of heat that would normally be lost when the pool is uncovered. The cover acts as a blanket to keep your cool warm, even on cool nights.
Safety
The primary reason people purchase an automatic pool cover is for safety. When the cover is closed and lying on the water, it is the safest way to cover your swimming pool. That's because the cover actually forms an isolation barrier when it's closed. All sides of the pool are sealed, which significantly aids in the prevention of accidental drowning by children, non-swimmers and pets. When you start shopping for your automatic pool cover, make sure it's certified to the latest standard performance specifications for safety covers.
Are you considering an automatic pool cover? Give us a call or stop by the showroom and we can answer any questions that you have.