Above Ground or In-Ground Pool – Which Shall it be?

December 19, 2020
Your budget is set and the location in your backyard determined; you're ready to get a pool installed this spring! But maybe you're not so decisive about whether it's going to be an in-ground or above ground pool.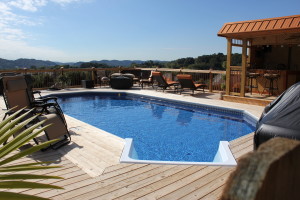 The most obvious consideration as you compare the two pool types is your budget.
The cost of either is broad depending on size, features, materials and design. You'll find that the materials and installation process for an in-ground can make it significantly more pricey than your run-of-the-mill above ground. But you could easily get all the bells and whistles with an above ground and see a similar cost to a basic in-ground option. Your budget will be a large determining factor here.
Is safety a concern?
Small children run the risk of falling into an in-ground easier than gaining access to an above ground. Of course, you can make either as safe as you need it to be with latched fences, alarms, safety covers, and more. But if you're looking at a basic installation without the extras and safety is a large concern for you, then the above ground may be worth considering.
Considering customization?
On the other hand, if you have the room in the budget for customization and aesthetic appeal is a big priority, then you're going to have more design diversity with an in-ground pool. The shape of an above ground is basically limited to circular or oval, and sizes vary slightly. With an in-ground pool (more specifically, one made of concrete rather than fiberglass), you can dream up most anything and, with the right contractor, can have it made. Then again, adding some decking and landscaping and an above ground pool can look pretty great too.
Don't forget, both types of pools require regular upkeep and maintenance.
One isn't better than the other here (that is, unless you go with a salt filtration system, but that's another post entirely). You're still going to need to do seasonal opening and closers, regular cleaning and filter changes, chemical balancing and repairs to both in-ground and above ground pools. Incidentally, we have a maintenance guide to help you in this area.
Personal preferences and budget are going to be your key factors as you decide between an in-ground or above ground pool. There's no right or wrong answer here.