Essential Tips for Choosing Your Child's Pool Flotation Device

July 30, 2020
Do you remember relying on the water wings and swim ring combo to keep you afloat? That combination was a popular go-to for little swimmers for a while but not exactly the favorite for the kids that wore them. They would often become deflated or even rough on the old' underarms. Thankfully, swimwear and pool floaties have come a long way! Your children have more choices on inflatable wear than ever before. So what exactly is the best choice for your child? Well, that all depends on who is wearing it and what their water experience is. Here is a short guide in helping you decide on what to buy for the little fish in your life.
Newby Swimmers
Most babies love their bath time and so naturally, as summer begins, parents want to introduce their new babies to the water! When choosing your baby's flotation device, you may want to choose something that you will not have to blow up constantly. Keep in mind that your baby will automatically lean toward the water once in it, so choose a flotation that is sturdy and will not easily tip over. Protect your baby from lots of sun! Floatation devices with a canopy that can be easily repositioned would be the best choice.
Beginner Swimmers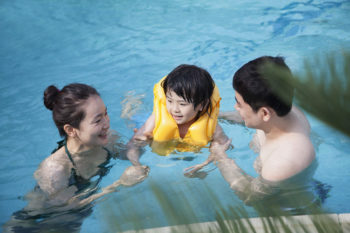 While most of us grew up wearing floaty wings as the main source to teach us how to swim, the United States Coast Guard (USCG) does not suggest this to be a good source for protecting your children from drowning. The blow-up wings can lose air easily and are not a reliable way to keep your child afloat. The best way to tell what device you should choose for your kids is to choose items that have the USCG stamp on it! Life vests are the top choice for most parents! Life vests are designed to keep your child's head out of the water and will prevent them from being facedown in the water.
It is true that some children are reluctant to put on swim devices, either because they just don't like them or they don't like how they feel…but the next time you are shopping for the flotation devices for your children, take them along and have them help you choose their device. Make sure to buy something colorful and fun so that they are excited about using it! Allow them to pick a fun float or tube with their favorite character on it to make it even more exciting!
No matter what you choose for your little ones, never allow them to swim without an adult watching!