Kamado Joe Grill or a New Hot Tub? Why Choose?

February 13, 2021
Life is filled with tough choices.
Paper or plastic? Credit or cash? Cream cheese or lox?
Actually that last one isn't tough at all. Cream cheese is delicious, and if you think it's reasonable to put smoked, oily baitfish on a bagel at 6 o'clock in the morning, get your head checked. You're a psycho.
One choice that doesn't have to be difficult, however, is whether to get a new grill or invest in a hot tub. The choice isn't tough at all because you shouldn't have to choose in the first place.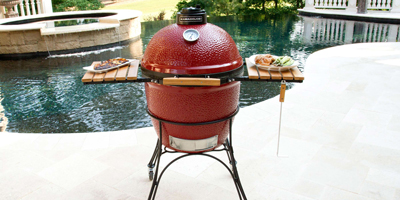 If you're truly going to create a backyard oasis that's the envy of the neighborhood, you need the bubbling bliss of a spa and a Kamado Joe grill that transforms meat into culinary heaven.
Not just any grill will do.
If grills were Billy Joel albums, Kamado Joe would be "Streetlife Serenade." Sure, it might not be the best seller on iTunes, but every true fan wouldn't want to live without it.
There's a Kamado Joe for everyone, but no matter which model you choose, you're going to reinvent the art of grilling. Smoke and sear your way to wood-fired perfection on every juicy, smokey thing you cook. Meat, veggies, and even dessert go in, and culinary euphoria comes out.
But what good is all that without a healing, soothing, relaxing, rejuvenating spa?
Bahama Spas took that name because stepping inside of one transports you to the Caribbean — but without airline tickets, watered-down frozen drinks and American tourists embarrassing themselves by pretending that they can relate to the locals.
Stiff, tight muscles loosen up. Achy, swollen joints recede. Stress and anxiety drown in bubbly, massaging ecstasy.
And what's waiting for you when you get out? Oh, that's right! Your food is done! Smoked and seared to temperature-controlled perfection.
See, some choices aren't choices at all.