May is National Water Safety Month

May 15, 2021
At Aurora Pool, Spa and Billiard, our priority is your safety over everything else. We've fully met our own standards in customer service only when you feel fully water safe. That's why we find it important to provide you with information on all the ways to make your pool as safe as possible.

Safety Covers
There are pool covers that you simply put on the top of your pool like a blanket. This can help keep out debris, but they're not going to keep your children or pets from falling in the water. In fact, covers like this can be a hazard when safety is a concern, because if your child or pet gets stuck under the cover, it makes things even harder.
Instead, install a safety cover when your pool is not in use. These pool covers are designed to withstand hundreds of pounds of weight and pressure without giving, completely sealing the water from any access points. The covers are secured to the patio surrounding the pool in a grid format, with several latch points, insuring no access while the cover is on.
Safety Fence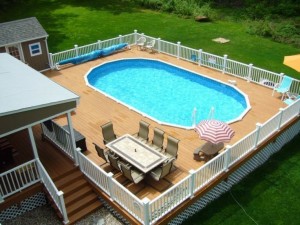 Because safety covers are time consuming to attach if you're accessing the pool on a regular basis (many pool owners only use them during the off season), a safety fence is another worthy investment in securing your swimming pool from unwanted access. You can do everything from installing a permanent wood or chain fence around the pool, to obtaining a removable, mesh safety fence (which is tension based).
What you want to look for is self-latching capabilities and a latch that is interior, rather than exterior, so that small children cannot reach it to open the gate. Of course, it can't hurt to have a locking mechanism as well.
Safety Ladder

For an above ground pool, invest in a safety ladder, which attaches securely to the pool so that there is no wobbling when people use it to get in or out. Also, install one that will lock in a straight up position when the pool is not in use, so that no one can access it until the ladder is unlocked.
For additional pool safety tips and products, contact Aurora Pool. We are honored to help make your backyard as water safe as possible so that you can rest easy knowing your children and pets are secure.