Urgent: Start Now If You Want an Inground Pool by Summer!

March 9, 2023
Are you dreaming of summer days spent by your new pool, sunbathing, and taking a refreshing plunge? Well if that's your goal for this year, now is the time to start thinking about installing your inground pool.
At Aurora Pools, we see people begin building during every season of the year, and we want to help you make the smartest decision about your pool install – particularly when to install a pool. Spring can be a great time to begin the project – but you should know what the pool installation timeline will look like and how to find a good contractor.
So, here are some tips that will help you jumpstart your pool installation in Knoxville and get ready for a splash-filled summer.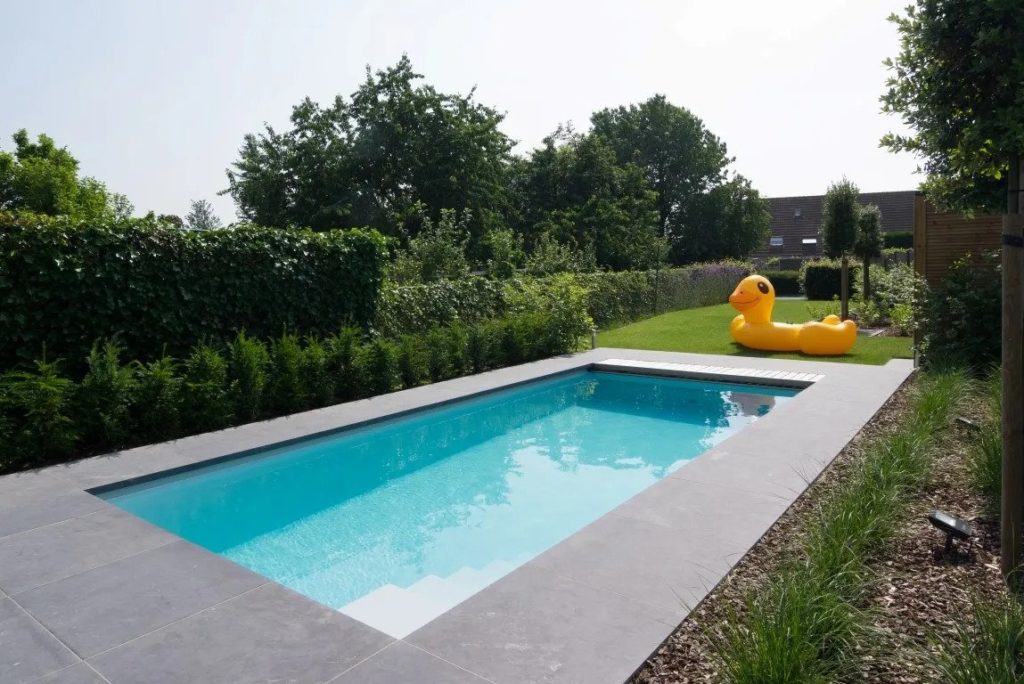 When Is the Best Time to Install an Inground Pool?
If you're trying to figure out when to install a pool to save money and have the smoothest experience, we'd recommend winter. This is typically the slowest season for pool installations, which means you'll face fewer setbacks and potentially find cheaper prices.
The off-season (spring and fall) is your next best option. Fall months typically offer stable weather in Tennessee, which can assist with an on-time finish date. However, many people think that installing an in-ground pool in spring is ideal, as it will land you with a brand new pool to enjoy right as summer rolls in.
The only drawbacks to installing a pool in the spring are the potential for heavier rains and softened grounds. Pool contractors in Knoxville might also get booked up in late spring as more homeowners rush to finish their projects – so if you're going to install an inground pool in the summer, act by end of March, at the latest.
Summer is typically the worst season for booking pool installation services. Most contractors are booked up, which means prices are higher and delays are more common. Additionally, you won't be able to enjoy your new addition for a whole year.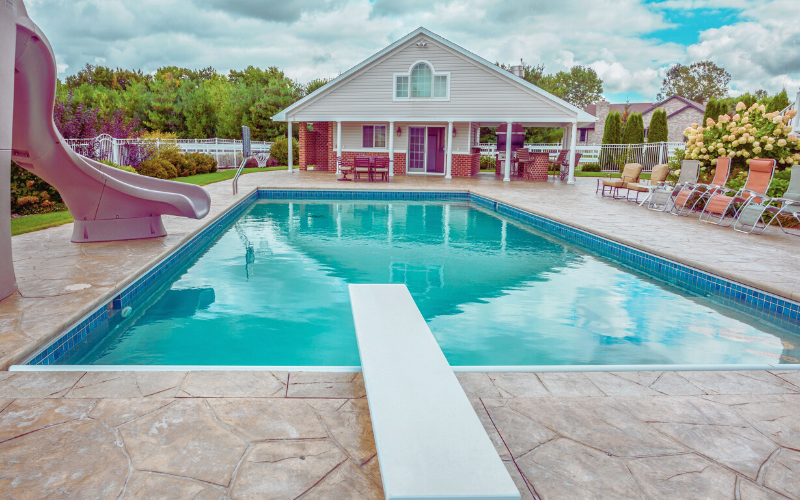 How Long Does It Take to Build an Inground Pool?
If you're going to install an in-ground swimming pool, you're likely looking at a minimum of 8 weeks of work – potentially up to 12 weeks, depending on the size of the pool and the scope of the project.
Typically, you will spend up to a month designing the pool and meeting with the contractor. Then, it will take another 2 to 6 weeks to secure a building permit, followed by another week to begin the excavation. Then, the plumbing and electrical elements will likely take a few weeks to finish, as will the plastering, fiberglass, and vinyl.
The bottom line is that if you want your pool to be ready before this year's summer has ended, you'll need to get started at least three months in advance – preferably by the end of March.
How Much Does It Cost to Build an In-Ground Pool in Spring?
The average cost to build an in-ground pool is around $35,000, but the final cost depends on the type and size of the pool you are installing. Prices have also been climbing due to surges in material prices, caused by many shortages in the industry over the last couple of years.
As a general rule of thumb, it's always a good idea to start the pool installation process early in the season. This can help you get ahead of material delays and avoid future price fluctuations as demand increases.
How to Find a Reputable Pool Contractor (Quickly)
If you're looking to install a pool by summer, you'll need to find a contractor you can trust to get the job done (and within a certain time frame). So, how do you do that?
Start by talking to your family, friends, and most importantly, your neighbors. Who have they used to install their in-ground pools? Do they have recommendations? It's always nice to get a reference from someone who has already worked with the Knoxville pool builder and been pleased with the results.
Compare costs. Not all pool contractors are priced equally, and you want to get a feel for what local builders are charging. Decide exactly what you want, then request written quotes from all of the pool builders you are considering.
Ask about the payment schedule. Most likely, you're not going to pay for your pool upfront. Instead, you'll pay for the total cost in increments after an initial deposit. Make sure all of these details are clarified upfront so that there are no hidden costs or surprise bills.
Check the contractor's credentials. You'll want to know that your builder is properly licensed and certified to build an in-ground pool – even if those details aren't required. You can also investigate the contractor's memberships in trade associations and other organizations.
Options Other Than In-Ground Pool Installation
Feeling overwhelmed by the thought of hiring a contractor for pool installation within the next few months? We don't blame you – it's a big undertaking.
Fortunately, an in-ground pool isn't your only option if you want to add a swimming pool to your property. Here are two other quicker (and less expensive) ways to go.
Above-Ground Pools
Above-ground pools are generally the most cost-effective option. These pools sit on the surface of your yard and are often surrounded by a deck or patio. They can be professionally installed, but many homeowners also opt for DIY assembling kits – substantially cutting down on the project's timeline and cost.
Keep in mind, however, that above-ground pools are not fully customizable like in-ground pools are, and they don't quite compare to the durability of an in-ground pool. Additionally, you have the extra maintenance of replacing vinyl liners every five years or so.
Let's be honest: in-ground pools aren't cheap. But if you're not quite ready to pull the trigger on a $30K+ investment and you hate the idea of an above-ground pool, you have another option . . .
On-Ground Pools
Many people are not familiar with the term "on-ground pools," and at first glance, you might think it's synonymous with "above-ground" pools. When people say "semi-inground" or "semi-above ground," that's when people start to know exactly what you're talking about; i.e., it's a swimming pools that's partially in the ground and partially above.
On-ground pools look and feel much like their in-ground cousins, but they are much easier (and quicker) to install. That's something they share with above-ground pools; however, the hybrid pools tend to be more versatile and studier. An on-ground pool just might be the perfect compromise, offering the best of both worlds.
Not sure which kind of pool is right for your budget and property? Check out our free pool download to learn more cost-effective pool installation options.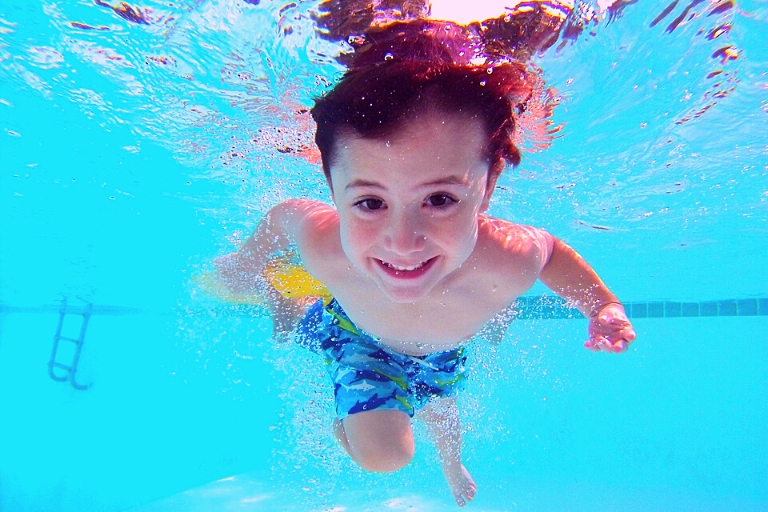 This kid knows what's up!
Planning to Install a Pool for Your Knoxville Home?
It may seem like summer is in the far distance, but trust us: it'll be here before you know it! If you want to enjoy an in-ground pool between June and September, you need to get started on spring pool installation ASAP.
Aurora Pools has been serving Knoxville, TN, and its surrounding counties since 2000. We specialize in in-ground swimming pools, as well as above-ground pools, vinyl pools, gunite pools, and fiberglass pools. We also have everything you need for expert pool maintenance.
Let us help you make your dreams of getting a pool installed a reality, so you can spend your summer days in a pool instead of thinking about a pool. Contact us to learn more about when to install a pool and how to get started.