Best Practices for Opening Your Pool | Aurora Pools

March 28, 2021
We're approaching one of the most exciting times of the year: it's almost time to open your pool! After a dreary winter, temperatures are warming up and soon it will be time for fun in the sun. Make sure your pool is ready for the first party of the season by following these best practices for opening your pool.
Clear Your Pool Cover
Leaves, debris, and puddles gather on your cover throughout the winter; you want to make sure all of this is cleared off before you open your pool in the spring. A cover pump is a great way to remove the standing water; however, the leaves, dirt, and debris can be a little trickier. Large piles of debris can be removed with a broom, but make sure you don't use anything sharp or abrasive or it could damage your cover. Many customers remove the water, then wait a day for the cover to dry. A leaf blower is an effective way to remove dirt and debris from a dry pool cover. Remove your cover, making sure not to get any of the remaining debris in your pool water.
Clean & Store Your Winter Cover
Use soap, water, and a soft scrub brush to thoroughly wash your winter pool cover. There are winter cover cleaners available to use, too. Allow your cover to dry completely. Store your cover in a heavy-duty plastic container to keep bugs or rodents away, and to extend the life of your pool cover. If you secured your winter cover with water tubes, make sure they are empty and dry before you store them.
Prepare for Warm Weather
With cold temperatures a thing of the past, you can remove all of the winter plugs and replace the proper eyeball or jet fittings to your return lines. Remove the ice compensators from your skimmer buckets, and then replace the skimmer baskets. Now is also the time to re-install your deck equipment like ladders, diving boards, and step rails.
Fill Your Pool
Whether you drained your pool during winterization or it lost water over the winter, you'll need to add more when you're almost ready to start using your pool again. Fill it up with a garden hose until the water level is above the midway point in the skimmer opening.
Prep Your Pump & Filter
Replace the drain plugs and the pressure gauge on your filter and on your pump. There's one drain plug on your pump, and you might have one or two of those plugs on your filter. If you have a multi-port valve, replace the pressure gauge, the sight glass, and the air bleeder. Reinstall all of your equipment, including your heater, chlorine dispenser, and booster pump.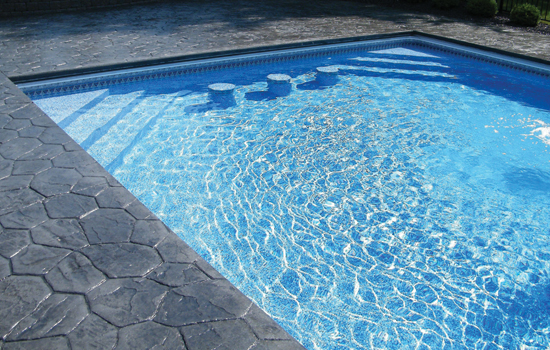 Turn It On
Fire up your pump and filter to make sure they work properly. Check all around for leaks or drips. If the pump isn't pulling water, prime it. Shut off the filter system, remove the lid of the pump, then fill the housing with water using your hose or a bucket of water. Put the lid back on and turn it on; this should help get the pump working properly.
Clean and Shock Your Water
Remove any debris in your water using a plastic leaf net. Take your time so you remove as much of the debris as possible. Brush the walls and the floor with a pool brush to get the dirt off the walls where your filter will remove it. Bring a sample of your water to us for a professional analysis so we can help you make sure your pH and alkalinity are properly balanced. Add sanitizer to your water, and then double shock your pool using 2 pounds of shock (5 gallons of liquid chlorine) for every 10,000 gallons of water.
We are here to help you in any way we can. We're happy to answer any questions you may have, or we can do the work and open your pool for you. Give us a call today and let us know how we can help.