Inspiration for Unattractive Pool Equipment Storage

July 18, 2020
When it comes to swimming pool equipment storage, don't feel the need to box yourself in. Pool equipment is never attractive, so why not tuck the unattractive away into something charming? These pool storage tips and trends will help inspire you to turn your yard into an outdoor living room.
Designer Pool Equipment Storage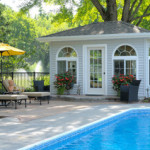 There are numerous pre-built shed options that you can easily convert and use for pool equipment storage. Look for something that has windows so you can easily see inside, even if you decide not to run electricity to the storage unit. You'll also want something that complements your backyard design and the look of the pool. This is something you'll look at every day, so it needs to have a design that you love. Exterior examples include trendy color combinations, glass, cedar, natural wood, paint, and wall sculpture. In addition to storage, these pool house interiors offer work, food preparation and play areas.
Consider a Unique Design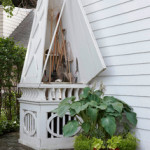 For storage that's unique to your backyard, you may consider designing your own unit from scratch. One of the more intriguing storage ideas is a unit constructed in the shape of an obelisk. If you're not up on your Egyptian-style architecture terms, an obelisk is a pillar that is usually square at the bottom and shaped like a pyramid on the top. One side of the obelisk pyramid opens up like a door, allowing storage for your long implements. The unit was built for garden equipment, but it's an original idea for pool maintenance equipment storage.
Find Your Own Inspiration
In order to create an outdoor space that's perfect for storage but is also wonderful for living, working, and entertaining you need to be aware of the best online resources. Many of our customers search websites like Houzz or Pinterest for photos and inspiration for designing and building elegantly executed pool and storage buildings. Pool house and storage combinations on the site include units constructed in traditional, contemporary, and artsy styles.
For more great pool storage ideas, tips, and trends consider downloading Latham's Pool Storage Ideas e-book.