Take Your Memorial Day Grilling to the Next Level

April 10, 2021
As you know, around here Memorial Day weekend is the official start of the summer grilling season. Whether you'll be at the lake, in the mountains or in your own backyard, there's nothing better than gathering together with your family and friends, and firing up the grill.
Now, that old discount store grill may do an OK job on hot dogs for the kids, but if you really want to take your grilling experience to the next level, it's time for a Kamado Joe.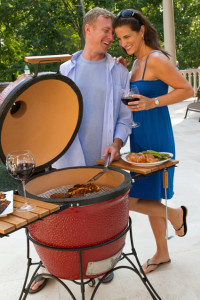 The Kamado Joe's proven ancient ceramic design gives food a rich, smoky flavor that just can't be beat, and the flexible cooking surfaces mean you can cook a wider variety of foods on your grill than you ever imagined.
Feeling inspired? If you think you're ready, stop by our showroom in Knoxville, Farragut or Morristown to choose your Kamado Joe, and then try out some of these recipes over Memorial Day weekend.
Steak is a delicious grilling standby. In this video, Kamado Joe's resident chef shows you how to make The Perfect Steak. https://youtu.be/YDB4Vg_jLSg
Burgers are always a crowd-pleaser. These Kamado Joe Smash Burgers use the Cast Iron Griddle and Stainless Steel Laser Cut Fish and Veggie Surface. The beautiful crust and juicy grilled onions can't be beat! https://youtu.be/8mftTVitQOE
If chicken is more to your taste, how about BBQ Smoked Chicken Leg Quarters? You'll need the heat deflector for this tasty recipe. https://youtu.be/OUaI4UknoWk
If you want to see what your Kamado Joe can really do, how about Kamado Joe Peach Pie? https://youtu.be/ILZOXK0kE5Y
Or, surprise everyone with breakfast! Bacon, Egg and Cheese Cups are quick, easy and tasty. Serve 'em up with a fresh fruit salad and your day is off to a great start. https://youtu.be/z9lXfw04gWU
Wow! All of that, and it makes great hot dogs, too.