Not all outdoor furniture is the same

April 24, 2021
We've all been there. You purchase a set of outdoor furniture for your patio or deck, and you love the way it looks…..For a while.
But it doesn't take much exposure to our Tennessee weather until the quality of that furniture really begins to show. The fabrics fade or mildew – or both. The metal rusts, the paint flakes, the wicker deteriorates. Or a storm blows through and that lightweight furniture just blows away.
Suddenly that outdoor furniture that seemed like such a great deal … isn't!
Maybe it's time to invest in a quality set of outdoor furniture. A set that's built to last. At Aurora Pool, we're proud to offer the Telescope Casual line of quality outdoor patio furniture. Telescope Casual has been producing quality products in the USA since 1903. (It's true! You can even check out their online catalog archive, going all the way back to 1927!)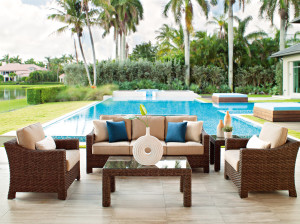 Whatever you're looking for in outdoor furniture, there's a style for you.
Outdoor dining is a summer tradition for many families. Telescope Casual sets come in a variety of styles and sizes to fit your space and your budget. Round, rectangle, oval and square, table height and bar height, with chairs to match. Add an umbrella for protection from that hot summer sun!
Cozy conversation sets for the patio or deck are also popular. Ours are built to last, with powder-coated or marine-grade polymer frames, and built for comfort, with cushions that can handle the sun and rain without fading.
Fire tables add a fun dynamic to your outdoor area. Add coordinating seating and you have an instant gathering spot for family fun and grown-up gatherings.
But that's not all – Telescope Casual also makes picnic tables, lounge chairs for the dock or pool, and even quality aluminum frame beach chairs for when you're on the go.
When you're tired of replacing your outdoor furniture season after season, and you're ready for something that will last, stop by one of our showrooms today.