We hope you choose to invest in a Trilogy Pool!
Trilogy custom crafts every pool ordered. What does this mean for you? It means that you get to select the model(s) you like, in the color that suits your style. It means that we are ready to fill your order based on what meets your design criteria, rather than "steering" you to what we have in inventory. "Any color you want as long as it's white" and "white makes the bluest water" and other statements designed to "help" you select standing inventory are not part of our business model. Many manufactured swimming pool shells are produced in limited sizes, shapes and colors. They then sit in inventory, sometimes for YEARS. The pools are made to be convenient for the manufacturer . . . not engineered to be beautiful for you.
Our Trilogy Pools are made right here in Tennessee and they come with a LIFETIME WARRANTY.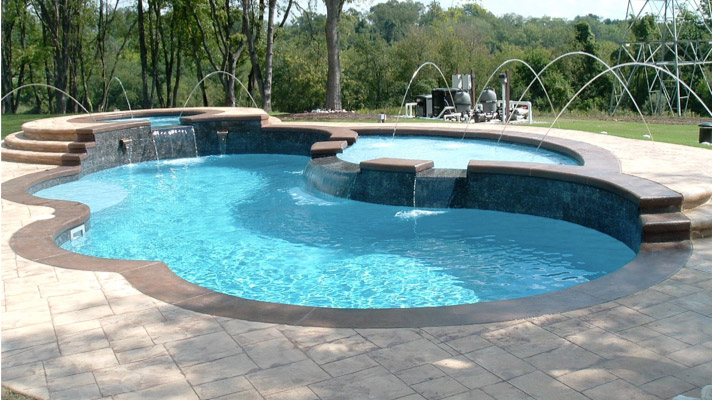 Whether it is the newest Innovation, a unique expression of your personal Style, or the Freedom to create a Water Feature You Can Swim In®, a Trilogy Pool is the right choice for you. Trilogy is more than color or shape – it's flow and emotion and endless design possibilities.
While you think about that perfect backyard, remember that Team Trilogy wants to help you make your backyard dream a reality. We're not here to just sell another shell; we're here to help you create a pool that is as beautiful to look at as it is to use. Spend some time exploring our website to find the perfect combination of swimming pool, surface color, deck, tile, water feature, and water color.
At Trilogy, our most important innovations have come from asking "How can we do it better?" We continue to ask the questions: "Why can't you have a variety of color choices?", "Why can't you have a customized fiberglass pool?", "Why can't you have a swim-safe environment?", "Why can't your swimming pool be virtually maintenance free?".
As a result of asking these questions, something amazing happened! With the help of our Trilogy Builder Network, we found answers to these and other questions that allowed us to truly change the way people see fiberglass pools.
From our innovative design concepts and custom features, to our award-winning quality control process and extensive warranty, Trilogy Pools offers you beauty, quality, and complete peace of mind that you've made the right choice by selecting our company and products.
Fill out our form to request a brochure and get all the color and shape options. We'll also send you our pool guide.